Right now the guys and I are sitting in downtown Portland getting in some last minute work (online cupping forms anyone? http://cuppinglog.com, plus we're launching a new homepage!).  This is the third year in a row that we'll have a booth at the SCAA show.  The entire weekend is exhausting, but exhilarating for our little start-up.  One of the most rewarding parts of working on RoastLog for me personally has been the stories from our users.  When folks tell us that our software is helping them run their business better and produce better coffee, I can't help but smile.
This month we have a couple of stories from Shark Senesac and Mat Olive from De La Paz Coffee.  These guys use RoastLog every day in their roastery…so this is real feedback from the guys in the trenches.  Enjoy!
On Inventory
by Mat Olive
---
As a small but growing roasting company, we don't always have time on our side. Though we've been using RoastLog for a few years, it was being used exclusively as a temperature logger and not until we had two people roasting did we realize how much more of the software we should have been taking advantage of. In our minds, stopping to do inventory on all our coffees and entering them into RoastLog would have taken more time than we felt we had. We could not have been more wrong and wish we would have done this many months ago.
The most obvious benefit from having our inventory properly entered into RoastLog is how quickly we can determine the amount of green coffee we need to order for the near future. In our retail-ready location we don't have tremendous space for green storage and using The Annex is a necessary part of our business. Using RoastLog I can quickly run a report that tells me how much of a specific coffee I've roasted this week, look at the Inventory tab to see how much of that coffee I have left in our on-site storage and at the annex, and then coordinate with our distributors to release the appropriate amount of coffee we will need. With more than a handful of coffees and several different distributors, what used to take far too much time now only takes a few minutes.
Reports have also allowed us to run quick sales statistics. We can easily see which coffees are our biggest sellers which has helped us analyze things like whether we might have enough of a particular coffee to use as an additional espresso offering. Looking at the Inventory tab can show us if we need to start moving a coffee we have before it becomes too old. We find a new use for the features of RoastLog on a regular basis!
On the Multiple Input Data Bridge
by Shark Senesac
---
When Brian initially approached us about beta testing RoastLog, we knew very little about logging programs.  In fact we had never even used one before.  All of our times, temps and adjustments were written by hand on paper – understandably a cumbersome method.  Its usability was simple and the learning curve wasn't too steep.  Everything seemed to be rolling along well except one thing.  Our bean temperature lines tended to fluctuate too often.  Perhaps, distortions caused by ambient temperature changes and maybe even an inattention associated with looking at a computer and the roaster simultaneously.  Over time we ran tests and realized that we we're placing entirely too much emphasis on the bean temperature.  For instance if a coffee was running slow/ fast we would find ourselves over correcting in an attempt to match the live line with the target line.  Although we were cautious of drastic flame adjustments (knowing that altering the heat application would change the fundamental recipe) small alterations seemed to still have massive effects in the cup.  We began to realize the problem had to be within the drum and we were fighting it daily.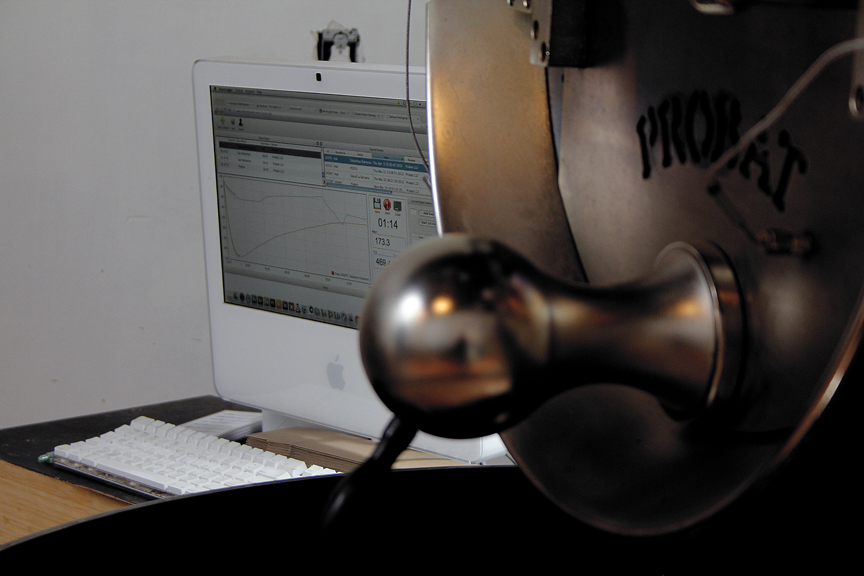 The stock environmental temperature gauge that Probat installs on L12s are great for ball park estimates and that's about it.  In addition to inaccuracy, the original gauge that came with our L12 was seized (due to years of neglect from the previous owner) and we were unable to remove the housing for routine maintenance.  Even after drilling out the old and installing a new gauge, we still found it to be inaccurate as well as difficult to read. With that being said, we mostly used the gauge for introduction temps as it was much more constant than the bean probe which can shift radically due to being so close in proximity to the jets.  Ultimately any sort of tracking of the environmental temperature was out the question, as it would constitute again, one more thing to write down and keep track of – further distracting us from what's happening to the coffee.
After incessant fantasizing about concurrently tracking both bean and environmental temperatures, RoastLog released the multiple input Data Bridge, which allowed us to do just that.  What we learned from the first batch cleared the road for what would soon shed light onto our problems regarding recipe vs. integrity.  Initially we noticed (with great detail) exactly how every adjustment affected both the temperature of the coffee as well as the air inside of the drum.  This in turn confirmed our theory that while the live bean line may match its target, the coffee didn't necessarily cup the same due to small periodic variations in energy application to adjust for a miscalculation in an intro temperature, batch size or fluctuations in ambient temperatures.  Because we were able to track the actual temperature inside of the drum we couldn't deny that the slightest alteration to the gas created massive deviations to the environment, causing not only over/underdevelopment but also shifts in momentum.
It goes without saying but the advances we've made in technique as well as the understanding of the what's happening inside of our roaster is in large part thanks to RoastLog. We will be at the their booth during the 2012 SCAA conference answering questions and talking about out experience with RoastLog.